Top 5 Thai Cuisine Dishes
Thai Cuisine is regarded as one of the most exotic food available, that really requires no introduction. Thailand's amazing cuisine features light, healthy and well presented dishes that is served across the world. Some are world famous while others are available in the native regions only due to their unique ingredients. What makes Thai cuisine one of the healthiest? It's diverse use of ingredients such as turmeric, galangal ( similar to ginger ), lemongrass, coriander and many other healthy spices that makes the food seem just simply great. Thai food features spicy, sweet, hot, sour and a splash of many other flavors that makes it seem so unique and delicious. Preparing Thai dishes are challenging and requires talented chefs. The colors of the food are also so vibrant, and it's aroma feels so fresh that it draws in everyone's attention. The best dish offered in Thai food are as follows
Tom Yam Goong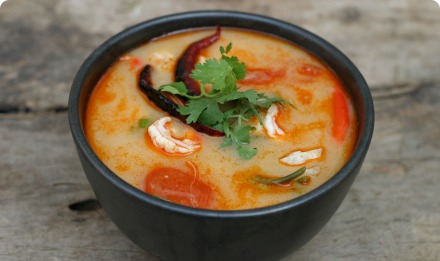 Mmmmm, Thai's finest.
This dish is essentially the best dish that defines Thailand's cuisine. This dish, if you've not had it yet, must try it out immediately. This is a soup that is light, and clear, seasoned with some spices and also includes a mix of lime, chilies, fish sauce and other ingredients. Lemon grass, galangal and shallot is used to simmer the broth in, that makes it aromatic, light and gives it a unique taste. Prawn is what's used in this dish as the main attraction. This dish is the most popular and regarded as the best dish due to its amazing and unique taste. Sometimes chicken or ox tail can be used instead of the shrimp aswell, and can be ordered the way you prefer it. However the most famous is the one with the shrimp and hence it's called Tom Yum Goong.
Pad Thai and Khao Pad
Pad Thai is known as Thai style fried rice noodle. This dish is unique in it's own way as it's only created using the freshest ingredients and noodles which are created delicately that is soft but elastic. The noodles are traditionally created by hand and so the process is long and requires talented chefs. It's then cooked gently with Thai spices and herbs, and is served with lemon, lemongrass and a unique sauce that is sort of grainy but rich in texture. The classic pad Thai is also served with eggs, shrimp, tofu and garnished with peanuts and coriander. Khao pad is a similar dish, but instead of noodles, fried rice is used. Those who prefer rice can opt for the Khao pad instead. The blending of the flavors in this dish makes it distinct from any other fried rice. Fish sauce, lemons and sugar are the key ingredients used in this dish.
Tom Kha Gai (Chicken in Coconut Milk Soup) and Gaeng Keaw Wan Gai (Green Chicken Curry)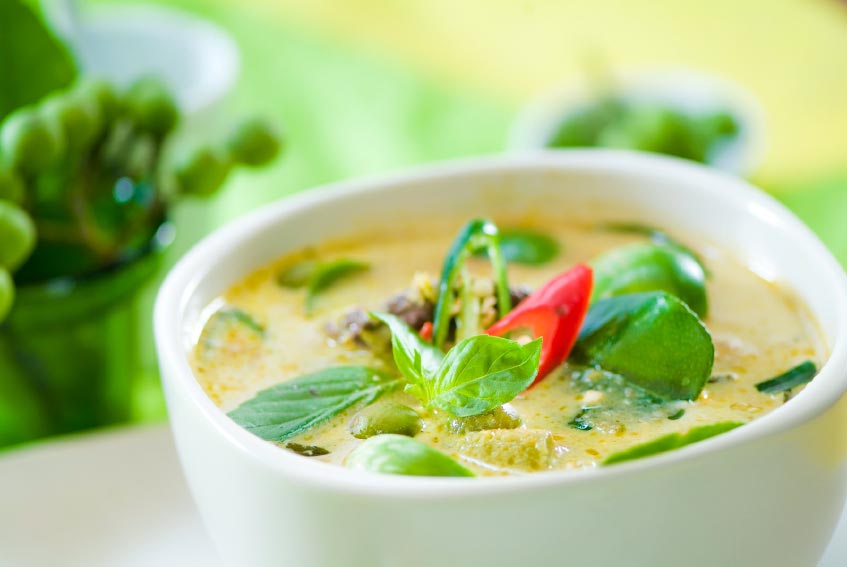 Green Chicken Curry
In Tom Kha, Gai, a variety of herbs and spices are used in addition to olive oil and coconut milk creates the broth. The soup itself is one of the best and refreshing soups of all time. It's also seasoned with lime, chili and fish sauces. As coconut milk is added the soup is not as light as the other ones used in the Thai cuisine, and it has some density which makes it different from the rest. It's also served with chicken and mushroom. It's a sweet and sour soup depending on the ingredients and is not very spicy so it's great for non spice soup lovers. Green Chicken Curry ( Gaeng Keaw Wan Gai ) is a curry from Thailand and has a noticeable green color and a slimy and sloppy texture. It's a sweet curry with a kick of spice, so it's a great and unique curry that is not just spicy. The Green Chicken Curry is loved by many, and has captured my heart aswell. Green Chilies, fresh herbs and lemon and great spices makes the basis of the Green Chicken Curry. It's one of the if not best dish in Thai cuisine.
Please if you're looking to go for some Thai, I've mentioned the best dish that everyone loves, do not hesitate to get the Green Chicken Curry, Tom Yam Goong, and the other dishes, that will leave you demanding more - I warned you! Good recipe for Thai's Green Chicken -
Green Chicken Curry Paste